Barney's Precision Products offers: cnc lathe machining, cnc turning, cnc milling, lathe work, mill work, machining, aluminum machining, plastic machining, brass machining, steel machining, aircraft machining, medical machining, aerospace machining, military machining, fittings, valves, bushings, machine shop, cnc machine shop, assembly, castings, prototype machining, high volume machining, quality machining, aircraft parts, medical parts, as9100 machine shops, precision machine shops, precision machining, affordable machining, titanium machining, titanium parts, brass parts, plastic parts, aluminum parts, steel parts, aerospace parts, machining prototype, machining metal, machining aerospace, machining military, machining cnc lathe, machining valves, machining fittings, machining bushings, cnc machining, milling, machined parts, machined aircraft parts, machined aerospace parts, machined metal parts, machined fittings, machined valves, machined bushings, machined aluminum parts, machined brass parts, machined steel parts, machined titanium parts, machined plastic parts, cnc parts, milled parts, machined castings, machined assembly parts, conventional machining, commercial machining, production machining, machined military parts, machined medical parts, machined electronic parts and machined custom car parts.


We at Barney's Precision Products are committed to giving our customers high quality products and on-time deliveries at a very competitive price. No job is too small or too large. What's more, Barney's can work within just about any time frame. We're your one-stop source for Precision CNC Machining and Milling since 1988!

Whatever your job requirements, our quotes are fast, and we can usually reply within 1 business day. It is as simple as faxing or emailing your print, quantity, and a need-by date...let Barney's Precision Products take care of the rest.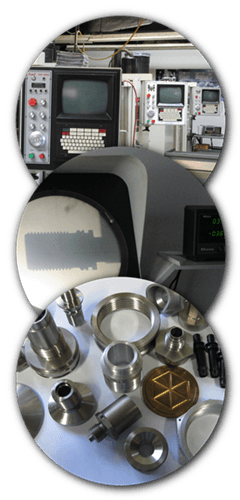 BARNEY'S PRECISION PRODUCTS IS YOUR ONE STOP JOB SHOP

HIGH QUALITY ✵ LOW PRICES

PROTOTYPE ✵ SHORT RUN

PRODUCTION ✵ ON TIME

IN HOUSE INVENTORY ✵ COMMERCIAL

CONTRACT ✵ MILITARY

MEDICAL ✵ AIRCRAFT

ALL CASTINGS ✵ CLOSE TOLERANCES

ASSEMBLEY ✵ ALL METALS AND PLASTICS

TURNING TO 10" ✵ MILLING TO 40"


LET BARNEY'S DO IT. WE WILL BOTH PROFIT.